Channel 4 (BBC, CNN, Al-Arabia, SBS Australia, ARD Germany, ABC America)
Winner Rory Peck Award 2004
Early in 2004, Native Voice Films director Philip Cox and his Sudanese guide Dawd Abute were the first filmmakers smuggle themselves into the troubled state of Darfur in Western Sudan.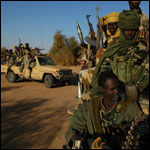 Over two weeks they lived and travelled with the Sudanese Liberation Army rebel groups. They filmed the first testimonies of an unreported violent removal of over 150 000 African people from their native land by horse riding Arab militias supported by the Khartoum government. Recording the voices of pilots in the Sudanese bombers flying overhead to the desperate desire for peace and games of football by the young and tired SLA fighters, the report offered a human insight into an unreported and devastating conflict now widely recognized as the world's greatest humanitarian disaster.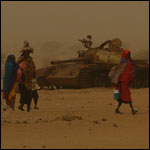 In response to the broadcast Channel 4 / Native Voice Films exclusive report on the massive and systematic ethnic cleansing in Darfur, the English and European Parliaments, as well as the Prevention of Genocide Committee requested private screenings and testimony from the Native Voice FIlms. Philip Cox also appeared before the UN commission on human rights in Geneva. His footage will be used for future war crimes prosecutions in Darfur. The Native Voice Films report was aired across the world in all major news organizations, including CNN, SBS Australia, ARD Germany, ABC America, BBC and others.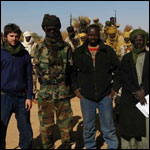 Native Voice Films has been nominated for several awards for its filming and producing in Darfur and keeping the Darfur tragedy into the media spotlight.
Directed & Filmed by Phil Cox
Producers: Phil Cox, Sarah Brownrigg, Dawd Abute
Executive Producer: Deborah Rayner