Phil Cox
Director
email
Phil produced and directed his first films in Scotland, completing an honours degree in languages and literature at the University of Edinburgh. He created Native Voice Films in 1998. For the last 15 years he has worked both as a director and producer of award winning broadcast TV and indie features. Phil also teaches and lectures around the world at film schools in India, Italy and Latin America. He has been awarded the Rory Peck Award for his work covering conflict in the Sudan civil war and has since been nominated for 7 other international awards. Phil's features are WE ARE THE INDIANS which premiered in Sheffield Doc Fest and won BAFICI Buenos Aires FF award and the MANAUS FF Award and also THE BENGALI DETECTIVE which premiered at Sundance and Berlin and had a UK cinema release. He is described as '…a director to watch...' by the Hollywood Reporter and Screen Daily. Phil won a British Grierson Award for THE BENGALI DETECTIVE which was also aired by HBO and is to be remade by Ridley Scott's company and Fox Searchlight. His feature LOVE HOTEL set in Japan premiered at Toronto in 2014 and went on to an international festival, US theatrical & NETFLIX release. He won a Tous Ecrans Trans-media award for directing the acclaimed interactive online LOVE HOTEL XPERIENCE. He wrote, directed and filmed the ARTE backed feature documentary BETTY – THEY SAY I'M DIFFERENT which premiered at IDFA Amsterdam and New York City in 2017. His forthcoming projects will be directing the fiction feature THE OTHER SIDE OF HERE from his own script,   His most recent work is the surreal feature THE CLEANER which mixes animation and documentary and is set in Mexico and also THE SPIDER-MAN OF SUDAN for The Guardian and ARTE which won the Gran Prix Bayeux Calvados award for war correspondents along with the Hinzpeter Award of South Korea. He has a passion for his bicycle, coffee cake, boxing and bad haircuts. He is represented by the agents Curtis Brown in London.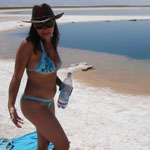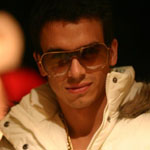 The Natives (Phil, Giovanna & Ed) on location…
Giovanna Stopponi
Producer
email
A highly experienced producer and production manager, Giovanna has been developing, producing and financing independent international productions for over a decade. Before running the Natives, Giovanna studied law in Italy. She then worked in hostile environments across Africa, with grass root peace negotiation and regeneration projects. She now works both in the field as a producer and oversees all Native Voice productions from our London UK and Palermo IT base.  Giovanna was the lead producer for our acclaimed feature documentary THE BENGALI DETECTIVE which premiered at Sundance and Berlin and won a Grierson Award and also produced the Japanese feature LOVE HOTEL in a UK-France co-production with Oscar winning company Bonne Pioche which premiered in Toronto and had a cinema release in the UK. She has produced BETTY – THEY SAY I'M DIFFERENT which premiered at IDFA Amsterdam and in New York City FF and the 2020 feature THE CLEANER set in Mexico City. Her latest work is the SPIDER-MAN OF SUDAN for THE GUARDIAN and ARTE which won the Prix Bayeux Calvados and Hinzpeter Award. Along with international feature producing, Giovanna is also the Director of REACT – Refugee Education Across Conflicts Trust – and is currently collaborating with MC SAATCHI in a global media campaign.
James Jackson
Legal Affairs
email
James Jackson is the founder of JL Law Firm and a Media and Entertainment lawyer by training, with a passion for creative and innovative forms of media. His breadth of understanding is drawn from over 10 years' experience in the field, firstly at Digital Stores (an e-commerce solutions and fulfilment company for record labels and brands) before qualifying at Harbottle and Lewis LLP, following which he was in-house counsel for Mentorn Media, Mentorn International Distribution and Daybreak Pictures. He has worked with start-up companies, established companies and individuals involved in Radio Production, Social Media, Digital Publishing and App Production, Band Promotion and Management and Film and Television Production.
Currently Working with Native Voice
Daoud Hari / Independent Producer & writer USA
 Daoud has over 12 years of experience  producing international media and NGO projects across Central, North and East Africa. He has produced in the field for organizations such as the NYT, NBC News alongside other media outlets such as the BBC, France 2 and SBS Australia. He has also worked for the UNHCR, Medicins San Frontieres and Women's Refugee Commission across Africa. Daoud has long worked with fellow Native Phil Cox in the war torn Darfur region of Sudan. Their latest collaboration CAPTURED IN SUDAN saw Phil and Daoud kidnapped and imprisoned. Daoud is a published author, his book THE TRANSLATOR by Random House, about his experiences in Darfur Sudan, was a world bestseller. Daoud currently resides in New Jersey USA.
Rafa / Independent Producer Sudan
Rafa works with the Natives principally out of Khartoum Sudan. She has a background in law and also working with minority groups alongside commercials and new media as a director.  We are very lucky to have Rafa's talents as part of our collective as she brings an energy and crucial street knowledge to projects in this region. More soon!
Joseba Calvo / Producer Mexico
Joseba is a highly experienced producer based in Mexico City. He has worked for the last 9 years with the Natives across numerous projects with broadcast credits such as Channel 4 UK, France 2, CNN and the BBC.  Joseba has worked from development through to production and excels in access to sensitive and difficult areas – both to Mexico's disparate communities and with the authorities. He is the Associate Producer on the feature project THE CLEANER to be released in 2020. Joseba has kept the Natives safe and at the cutting edge of numerous stories and adventures!
Lisa Cazzato Vieyra / Filmmaker
email
Lisa works as a producer cinematographer for Native Voice and as a filmmaker. Her recent works have been a series of acclaimed short films for Channel 4 UK, and Amnesty International, as well as prime time documentaries for Al Jazeera International set in South Asia. Over the last four years, Lisa has worked with both video and film, producing both experimental and broadcast documentary films. Born in Lecce, Southern Italy, she came to London to study and work in photography. Lisa's background is extensive in the fashion and commercial photography industry, assisting various established photographers. In 2003 she has completed an MA in Fine Arts at S.Martins College of Arts and her photographic work, supported by grants from the Arts Council and awards, has been shown in London galleries as well as internationally. Lisa is currently filming with The Tate Modern Art gallery in London as well as developing her own projects. She was the cinematographer on our award winning Sundance feature THE BENGALI DETECTIVE. 'La Bella' is well known for an individual and unknown dance floor style that she has been perfecting for the last few years.
Ed Owles / Filmmaker
email

Ed has worked at Native Voice Films for the last 6 years. He has directed and shot documentaries for leading broadcasters as well as screening his work at international film festivals such as Leipzig, Los Angeles, New York, Cairo and others. Ed graduated from Cambridge with a degree in languages (Italian & Spanish) and social anthropology and is an Associate Tutor in Ethnographic Film at UCL and Goldsmiths. Ed has recently directed and filmed the India based feature documentary The Auction House which premiered in Los Angeles and then New York and was the lauded Gala opening film at London City Film Festival 2014. He can also turn his head 360 degrees, hates small talk and makes a mean centre back footballer
Sounak Chakravarty / Director & Editor
Sounak is a Free-Lance Filmmaker & Editor from India. He has worked with Native Voice Films since 2008 and we regularly thank the Gods for his talents and wisdom. He was Associate Director & Assistant Editor for the acclaimed feature doc The Bengali Detective which won a British Grierson Award. Sounak graduated in Film Editing from the prestigious, Satyajit Ray Film & TV Institute, India, an autonomous institute under the Ministry of Information & Broadcasting, Govt. of India. Before coming to films he did his Masters in Computer Engineering, with published paper in IEEE, Computer Society. He edited NEEV (The Foundation), the award-winning documentary at Sebastopol Documentary Film Festival. He has worked as a Script consultant for RSA & Scott Free, USA, along with FOX Searchlight. His video installation work was displayed at India Art Fair. At present he is currently Assistant Directing & Assistant Editing Native Voice Films upcoming film The Auction House as well as the fiction drama The Indian Job. Sounak is simply a most WONDERFUL person, he could have been an astronaut, chose to be a filmmaker, and most certainly soon needs to be married.
Esteban Uyarra / Editor
Esteban is an award-winning director and editor of documentary films. In 2002 he won Best International Documentary and Best Directorial Debut at the New York International Independent Film & Television Festival for his first documentary, The Runner. His second documentary, War Feels Like War for BBC Storyville, screened in festivals and on TV channels across the world and was nominated for the prestigious Grierson Awards. http://www.pbs.org/pov/pov2004/warfeelslikewar/ Esteban has continually directed and edited international features over the last decade, often with the Natives. His last being Pussy Riot, a Punk Prayer, which premiered at Sundance 2013 and won a Sundance award. Esteban is a true Native, and has been known to edit masterpieces whilst listening to BadLands by Springsteen on full blast.
Ben Stark / Editor
Ben has worked for the last 12 years on high-end international documentaries for TV and Cinema many of which have been nominated for Emmy, Bafta and Grierson awards. Ben has been working editing long form premier strand documentaries for various leading UK and international broadcasters and has joined the Natives on many an escapade. This year Ben won the Sundance World Documentary Editing Award for his work on acclaimed feature doc The Summit. Ben rubs his chin a lot and rolls his eyes when speaking to the Natives…in a lovely sort of way.