The Natives are a collective of independent filmmakers based out of London UK & Palermo Italy. We work globally with innovative and ambitious partners and come with lashings of cutting edge filmmaking talent!
Native Voice produces film and digital media content for leading broadcasters such as the BBC, NETFLIX, ARTE, VICE, Al-JAZEERA, SBS, FRANCE 2, HBO and others. Our cinema features have screened at film festivals such as SUNDANCE, BERLIN, MELBOURNE, TORONTO, SARAJEVO and TRIBECA. We are proud to have worked with AMNESTY INTERNATIONAL, the UNHCR and OXFAM – creating innovative and interactive content for global audiences.
Native Voice has over 15 years of experience working across the fields of TELEVISION, CINEMA and DIGITAL MEDIA. Based in London – we work globally with unique filmmakers and exceptional digital media talent. Our content is created for the big screen to mobile platforms as well as international TV broadcasters and select good practice corporate and NGO partners.
Find out how we can create tailored content for you and contact us!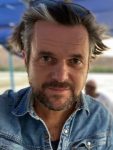 Giovanna Stopponi
Producer
James Jackson
Legal Affairs
Currently Working with Native Voice Films
Lisa Cazzato Vieyra
Filmmaker
Daoud Hari
Producer / Writer
Native Voice Filmmakers created the registered charity REACT (Refugee Education Across Conflicts Trust ) in 2008. Run as a volunteer organisation, REACT's mission is to provide long term educational needs and emergency protection to refugees. It works with local partners and the refugees themselves to identify needs and best impact strategies. Current projects are active in Central Africa and Southern Europe. Learn more and support us!