CNN International (SIC Portugal, TV2 Denmark, NHK Japan, France 2, KRO Holland)
Just before the elections in Iraq, a small team from Native Voice Films independently produced a series of vignettes on the lives and hopes of young people from across the country – from Baghdad, Nasariyah, Basra and the Southern Marshes.
Wael is a 19-year old policeman from Basra. In the pre-election period, two policemen were being killed everyday. It is one of the most dangerous jobs in Iraq but Wael says he is not scared – despite his elder brother being murdered yards from his home by insurgents. Wael dreams of being a writer and a poet. In the 1990s, Saddam drained the vast southern marshes near Basra to deny Shia resistance fighters cover. Ismail is an 18 year old fisherman who has recently returned with his family to fish again the waters of his ancestors. Ismail is angry with the coalition, that they have still no water or electricity or security. He will vote but he just wishes there was security. If he could he would give up being a fisherman and become a footballer.
Amir Abbas has worked in a cementery since he was a child. In these days he is busier than ever, bodies are often left outside the cemetery gates – but at night he is too afraid to collect them. Amir believes he must vote, although he hates the lack of security and failure of the coalition, even after two years, to fix anything that any normal person needs for just a simple living. Nour is a 15 year old school girl from the outskirts of Baghdad. She attends one of the new schools and loves the ability to finally have internet. She bemoans the security situation and failure of the coalition to improve their living conditions. She hopes young people her age do not have a bad impression of Islam: "… Islam is peace, not throat cutting." she says. Nour soon hopes to wave the Americans and British goodbye just as she waved to them on their arrival.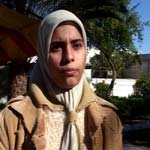 Native Voice Films would like to acknowledge the kindness and bravery of all the Iraqi's who helped make these films. These are their voices.
Director: Philip Cox
Producer: Katia Saleh
Camera: Raad K Abbas
Editor: Esteban Uyarra
Production Assistant: Lisa Cazzato-Vieyra