A Native Voice team travelled along one of the most dangerous borders in the world to investigate the fighting and proxy war between Chad and Sudan. This long desert border – between Chad and Western Darfur, is home to roving militias, bandits, fleeing refugees and two patrolling armies.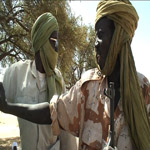 Native Voice, in an exclusive investigation, discovered that cracks are emerging in the alliance between the notorious Janjaweed fighters and the Sudanese government. The Janjaweed have been accused of war crimes and targeting civilians across Darfur. Yet Native Voice discovered that hundreds of ex-fighters have switched sides to the Darfur rebels based in Chad and are now fighting the Sudanese government, their former employer. "The Sudanese government offered me many nice things to push back people in North Darfur", states janjaweed leader, Abu Sara. "But now, we refuse to work for them".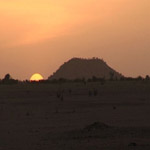 Fighters are worried by the special courts the Sudanese government has set up to try war criminals. They fear janjaweed members will be made scape-goats to hide the real criminals in the government. Rebel leader, Nasradin Ahmmad Tendi, confirms Abu Sara's story. "There are many people from the Janjaweed who are leaving the Sudanese government and joining us", he states. "We accept them because they also have been cheated".
Click here to watch the report
Director / Camera: Phil Cox
Producer: Giovanna Stopponi
Chad Fixer and AP: Bakhit Tilea