PRESS REVIEWS:
"Love Hotel ultimately delivers a sophisticated and beautiful exploration of sex and romance in the 21st centrury – this is the first ever film shot inside one of Japan's 37000 Love Hotels – painstakingly gathered over three years…" HOLLYWOOD REPORTER
"A fascinating reflection from a hidden Japan, between Eros and Love, with
extraordinary characters and stories… nights in Love Hotel are like dreams…."
DARKSIDE CINEMA
"The explicitly sexual, wholly emotional and tantalising Love Hotel…." – INDIEWIRE
"Lifting the veil of moral and sexual conformism through the power of film…with echoes
of works by Pasolini…" IL FATTO QUOTIDIANO
THE FILM:
Pensioners, businessmen, married couples and teenagers are all regular clients at a unique Love Hotel in Osaka Japan. With unprecedented access throughout the hotel, this film reveals their desires, fantasies and motivations as they inhabit one of the most secret and anonymous spaces in Japanese society. Never before has such access been granted to a film crew. The Love Hotel in this Native Voice Films production is one of the last Fantasy Love Hotels in Osaka. In a structured and coded society, it is only here where, with wife, mistress, group, partner or alone, people of all ages may unlock their desires and without judgment – 'love' and 'be' how they wish. Their revelations, sex acts, and conversations range from the tragic and tender, to the mundane, comic and erotic. All are incredibly human and all are unscripted and real.


The man who tends to these clients needs, is the hotel's manager, Mr Hayato. Today Hayato is fighting to save his remaining few fantasy 'concept' rooms both from being 'standardized' by a hotel management eager for more profits and also from conservative right wing groups who want to close him down. He and his ageing staff, must improve profits or risk losing their jobs. In their extraordinary labyrinthine hotel, they see themselves as the last bastion of protection for their clients in an ever more conservative and commercial society.


There are 30,000 love hotels to be found across Japan today. Love Hotels can be rented by the hour or for days – they are used by all members of Japanese society including married couples and pensioners. Yet the special Fantasy or 'concept' love hotels, that once boomed from the 1970s until a few years ago are now being taken over by commercial hotel chains eager to cash in on a love hotel market that makes two times as much as Toyota Motors each year.


Every day an estimated 2.4 million people visit a Love Hotel. The 'Love Business' is one of the most lucrative industries in Japan. However these commercial hotel chains have little time for concept or themed rooms or the idea of fantasy and play as part of their business models and therefore convert their rooms to a standard interior.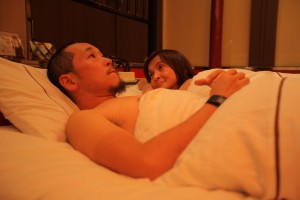 It is the regular clients stories that are followed and developed over the course of the film. The audience come to know people for moments in their daily lives – as businessman, housewife, council official, bar tender – and contrast these everyday moments with their time in the fantasy Love Hotel world. Their small narratives inside these rooms, evolve each time they return. What is revealed outside of sex, performance and desires are the stories of the everyday. They are us – we are them.
A NATIVE VOICE FILMS & BONNE PIOCHE PRODUCTION / A FILM BY PHIL COX
IN ASSOCIATION WITH BBC STORYVILLE FRANCE 2 SABOTAGE FILMS-VIENNA
DIRECTOR: PHIL COX
PRODUCED BY GIOVANNA STOPPONI & SOPHIE PARRAULT
EXECUTIVE PRODUCERS: KAROL MARTESKO-FENSTER GERNOT SCHAFFLER THOMAS BRUNNER
EXECUTIVE PRODUCERS: EMMANUEL PRIOU YVES DARONDEAU CHRISTOPH LIOUD
EDITOR: ESTEBAN UYARRA SOUND: DENNIS WHEATLEY ORIGINAL MUSIC: FLORENCIA DI CONCILIO