Documentary of the week – The Independent On Sunday
Best viewing of the week – The Observer
Documentary of the day – Evening Standard
In 1979 in the city of Basra, Southern Iraq, Awatif Al-Badi was forced to make the most terrible choice any mother could imagine. Faced with arrest and near certain death by Saddam's secret police, the pregnant mother of 3, had to decide which of her children she would save and which she would have to abandon. In 2003, with the invasion of Iraq underway by America and its allies, Awatif, now in London, becomes determined, along with her 14 year-old English born son, to return to Basra and search for the daughters she left behind.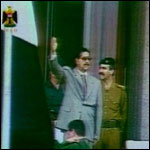 Directed, produced and filmed by Philip Cox, this documentary follows Awatif Al-Badi and her 14-year old football mad son Wisam as they embark on an epic and dangerous journey from West London to war torn Southern Iraq.
Through the few letters exchanged over 20 years, Awatif knows that the two daughters she left behind in Iraq, now have children of their own. But that they and their families have been caught up in the heavy fighting around Basra between the British and Iraqi forces. Without telephone contact, Awatif does not know if her daughters and family are alive.
An intimate and emotional documentary that gives a fascinating insight into the people of Basra who were besieged by, and fought, the British army, but also into a mother's determination to reunite her family. Channel 4
Directed produced and filmed by Philip Cox
Assistant producer/camera Katia Saleh
Executive producer Adam Barker